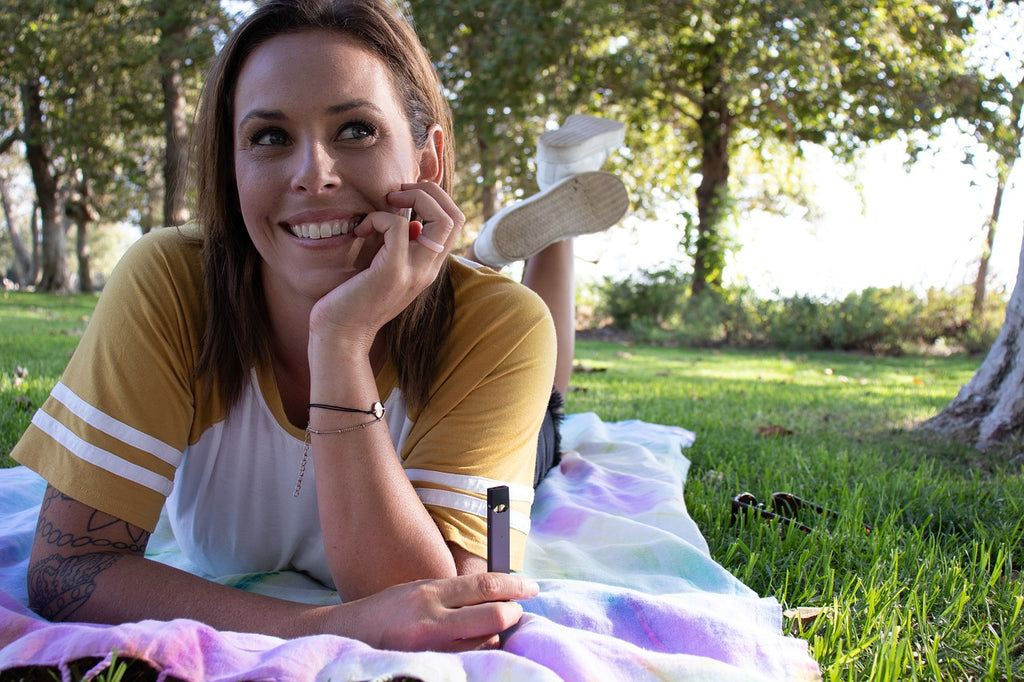 Best Salt Nic Juice In 2021 | Top 10 Brands And Flavors!
Salt nic juice has made quite a splash in the world of vaping. I still remember the very first time a sales rep approached me in my vape shop with this bottle of super high nicotine juice raving about how "nic salt juice is the next big thing!". I laughed him out the door, thinking "who would want to vape higher nicotine?". A few weeks later, I couldn't keep track of all the phone calls from customers asking us if we had any salt nic juice. And thus, the unstoppable force that was nicotine salt e-liquid hit the vaping industry like a freight train and everyone was on board. 
In the vaping world, countless new juices emerge to fight for your attention every single day. It can be hard to keep track with so many flavors constantly bombarding us. But we managed to compile a list of the top-selling salt nic juice this year (so far) based on all the positive feedback we've received from our customers, as well as specific brands and flavors consistently being asked for. We will continue to update our list and replace the old with the new. But first;
What Is Salt Nic Juice?
Simply put, the main difference between nic salt juice and regular freebase juice is the fact that nic salts use a different mixing base that actually allows you to vape higher nicotine while still giving you a very smooth hit without the harshness. This offers you a much more satisfying hit. This type of nicotine also disperses itself more evenly throughout your body, meaning you'll be more satisfied with less hits without feeling like you need to chain vape. This has had a tremendously positive impact on smokers and has drastically curbed the urge to continue smoking. 
It all started with the JUUL vape. They were the first vape company to introduce their nic salt pods to the world. And the world loved it. Ever since then, salt nic juice has taken over the industry, being available on every shelf in every vape shop, EVERYWHERE. This paved the path for other big companies like SMOK to create nic salt devices suited for your nicotine salt e-liquid. And now, there is a variety of amazing salt nic devices and juice to choose from, including a lot of your favourite brands that have made the switch as well. Now, lets get into it and find out what the best nic salt juice is! 
1. Jungle Secrets By Twelve Monkeys Nic Salts
We thought we'd start off this list with the most famous e-liquid line, Twelve Monkeys! If you've never tried this line, it is one of the most well-known juice lines in the entire industry. Most of their popular flavors are now available in salt nicotine. Jungle Secrets ranks at the top of their list and is an absolute must try! It's a phenomenal blend of sweet lychee and juicy mangos that is adored by our customers. Order your bottle HERE. We also recommend you check out their other salt nic juices as they are all extremely popular in the industry.
2. Strawberry Lemonade By Lemon Drop Salt
Lemon Drop is constantly flying off our shelves. This delicious line of refreshing lemonade-infused salt nic juice is a must try of the year. If you're looking for a tangy, sweet and sour blend of zesty goodness...give the Lemon Drop line a shot. You can browse their flavors HERE but if you're not sure which one to pick, we'd recommend you go with the Strawberry Lemonade for the perfect mix of sweet and sour. Order it HERE today!
3. OMC "Oh My Custard" Salt
This one is for the dessert/custard lovers out there. OMC is personally my absolute favourite juice in the entire world. It's the smoothest, warmest, tastiest vanilla custard to ever grace the vaping industry. There really isn't anything that tastes similar to this nic salt custard juice. Most people generally fancy the fruity flavors, but we just had to include one of the best dessert juices on this list for anyone who isn't a fan of the fruity stuff. I couldn't recommend this flavor more. I vape it everyday and we've been selling out of it for years. If you've never tried it before, make sure to order your bottle HERE right now and stop missing out!
4. The Prophet Salt By Illusions
The Prophet salt e-liquid by the Illusions line is a fantastical blend of freshly picked blueberries and citrus guava that is sure to make you a believer. Many of Illusions' flavors are big hits amongst vapers everywhere, but The Prophet might just be their crowning achievement. Highly addictive and incredibly rich in flavor, this nic salt juice will certainly keep you coming back for more. Order it HERE today! And if you're looking for other great-tasting salt e-liquid from the same line, make sure to browse all the rest of their amazing flavors too!
5. Rampage POLAR By Koil Killaz Salt
The Koil Killaz Polar salt e-liquid line is another extremely popular juice line offering beautiful blends of sweet, exotic fruit flavors with a cooling exhale that we have trouble keeping stocked on our shelves. One of their top-sellers is Rampage Polar, a ferocious blend of citrus guava, juicy sun-ripe mango and golden pineapples with a refreshing ICY exhale. For anyone who wants to feel like they're laying on a warm sandy beach underneath the blue skies on a glorious sunny summer day, Rampage Polar salt nic juice will take you right there with every hit! Order your summer in a bottle HERE. You can also browse their other flavors as their entire line-up is superb.
6. Blue Raspberry Salt By Chill E-Liquid
The Chill line is brimming with incredibly rich and flavorful juices. One of their fastest-selling salt nic juice is the Blue Raspberry. It's a simple blend of fresh blueberries and sweet raspberries, but the flavor is just off the charts! Most of the Chill line offers you real-tasting fruit flavors that don't feel artificial or forced, and this specific juice is no exception. Hands down one of the smoothest, best-tasting Blue Raspberry e-juice on the market! Make sure you order yourself a bottle HERE and really taste the difference. You can also browse Chill's other flavors. We can assure you, you won't be disappointed.
7. Island Salts By Sour Master Salt
The Sour Master Salt line is just WOW. An absolute masterpiece blend of both sweet and sour candied fruit flavors that will undoubtably blow you away! Island Salts is currently their best-seller. It's a blend of sweet peaches, candied mangos and irresistible slices of juicy and refreshing pineapples. Escape to a tropical paradise with every hit of this astounding salt nic juice and see why it has effortlessly earned its way on our top ten list. Buy your bottle HERE and while you're at it, you can browse their other nic salt flavors incase anything else captivates your attention. 
8. Peach Raspberry By Razz And Jazz Salt
Razz and Jazz Salt E-Liquid is well-known for their addictive concoctions of deliciously blended sweet and citrus juices offering an impossibly perfect balance between the sweet and the tangy. Peach Raspberry reigns as the king of this amazing line. Indulge your tastebuds with a tasty mix of sweet raspberries and citrus peach nectar! The amount of positive feed-back our customers continue to give us regarding this nic salt juice has been almost overwhelming. Order your bottle HERE and join the large group of satisfied customers today! 
9. 4-Berry By Essenza Salt
Our list of the top ten best salt nic juices is not in any particular order, although if it were, 4-Berry would be all the way at the top! The Essenza line has phenomenal flavors across the board but 4-Berry takes the cake amongst the most popular and delicious. Made by berry lovers FOR berry lovers, this unreal blend of freshly picked blueberries, blackberries, raspberries and ever-green huckleberries will consume you and give your tastebuds an experience they will surely never forget. Grab your bottle HERE and while you're at it, make sure to try their other great flavors like their Cherry Lime which was a close second in this vicious race!
10. ASAP Grape By Nasty Juice Salt
Last but certainly not least, the famous ASAP Grape. This flavor ranks amongst the best of the best and easily could have been a top contender for the greatest. The entire Nasty Juice line offers unbelievably rich and powerful flavors that you just won't be able to put down! ASAP Grape is arguably the best grape salt nic juice that has ever existed. It's a fantastic blend of rich purple grapes picked fresh from the vine with undertones of other fruity and berry flavors that work so well at accentuating the main grape flavor. Try this out ASAP and find out what you've been missing out on! Order your bottle HERE. 
Conclusion
There are so many other nic salt juices we really wish we could have included on this list. One has to understand that everyone's taste pallet is different and all the flavors listed above are subjective to each and every person. We ended up creating our top ten list using the most widely bought juices that get constantly asked for by new AND repeat customers. Try them out today and see for yourself if they're worth all the hype! Although we would confidently say that they are. 
This list will change overtime as amazing new salt nic juices continue to emerge in this industry. Check back every so often to find out what is trending today and what people are rating as the best of the best. Until then, make sure to try one of these spectacular juices we know you'll love! 
Browse our entire collection of nic salt juices HERE if you're looking for something specific that might have not been listed above. There is something for everyone on our site :)
---